$9,999
Birthday Trading Competition
Celebrate the 9th CEX.IO Birthday & win up to $3,000 in cash prizes!
The Competition ended
How to participate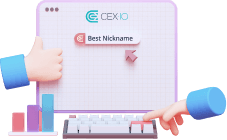 Choose a Nickname
Log in to your CEX.IO account and enter your nickname.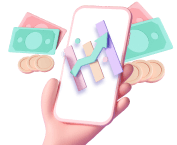 Start Trading
Trade between July 7 and July 20, 2022 like you normally would and earn points.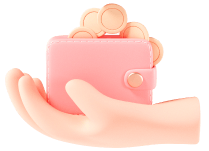 Win up to $3,000 prize!
The participant with the highest scores will be eligible for the rewards up to $3,000.
Prizes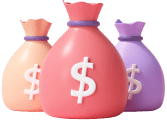 Group 1 — 1st place
$3,000
14x random participants —
from $50 to $500 each
Rules
1. The Competition runs from July 7 - July 20, 2022.*
3. Only orders placed and filled during the Trading Competition period (July 7 - July 20, 2022) are calculated against the total score.
4. You can trade ALL available pairs on CEX.IO.
5. We'll announce winners on our social media pages and Telegram by August 1, 2022.
6. The winners will receive prizes in their CEX.IO wallets within 14 business days after the winners' announcement.
7. Every day you'll get points for:
Turnover rate;

Number of transactions;

Turnover growth compared to the previous day;

Number of markets traded.
The sum of the daily points will make your total cumulative points and your place on the Leaderboard. More details are on our blog.
8. CEX.IO may disqualify participants that are deemed to be illegally bulk registered and/or verified accounts. CEX.IO may disqualify participants without explanation.
*CEX.IO reserves the right to change the dates and terms of the Competition at any time without prior announcement.
Show less
In case you missed the news before: CEX.IO has reduced trading fees to make your trading with us even better ❤️
Volume

(New/

Old)

Taker

(New/

Old)

Maker

(New/

Old)

≤ 10,000 $

/ ≤ 5 BTC

0.25%

/ ≤ 0.25%

0.15%

/ ≤ 0.16%

≤ 100,000 $

/ ≤ 30 BTC

0.23%

/ ≤ 0.23%

0.13%

/ ≤ 0.15%

≤ 500,000 $

/ ≤ 50 BTC

0.19%

/ ≤ 0.21%

0.09%

/ ≤ 0.13%

≤ 1,000,000 $

/ ≤ 100 BTC

0.17%

/ ≤ 0.20%

0.07%

/ ≤ 0.12%

≤ 2,500,000 $

/ ≤ 200 BTC

0.15%

/ ≤ 0.18%

0.05%

/ ≤ 0.10%

≤ 5,000,000 $

/ ≤ 1,000 BTC

0.13%

/ ≤ 0.15%

0.03%

/ ≤ 0.08%

≤ 10,000,000 $

/ ≤ 3,000 BTC

0.11%

/ ≤ 0.13%

0.01%

/ ≤ 0.04%

≤ 20,000,000 $

/ ≤ 6,000 BTC

0.10%

/ ≤ 0.11%

0.00%

/ ≤ 0.00%

≤ 50,000,000 $

/ > 6,000 BTC

0.08%

/ ≤ 0.10%

0.00%

/ ≤ 0.00%

≤ 100,000,000 $

0.07%

0.00%

≤ 200,000,000 $

0.06%

0.00%

≤ 500,000,000 $

0.05%

0.00%

≤ 1,000,000,000 $

0.04%

0.00%

≤ 2,000,000,000 $

0.03%

0.00%

≤ 5,000,000,000 $

0.02%

0.00%

> 5,000,000,000 $

0.01%

0.00%
Crypto Trading Competition
Competitiveness is an omnipresent and fundamental human trait. Observed through the prism of trading, it is easy to see why this trait shines brightest in an industry as turbulent as cryptocurrencies.At CEX.IO, we strive to offer solutions to the complex inner workings of the crypto world and bring them closer to everyday life. However, what's life without a bit of excitement? Trading may seem dull to the untrained eye, but reading numbers and charts is only the tip of the iceberg. Trading cryptocurrencies calls for interpreting data into knowledge and then accumulating that knowledge through experience.
Therefore, you can think of crypto trading contests as crash courses in transforming cold, hard numbers into something akin to the rules and laws of the crypto market. And if it's trading competitions you want, then, that's what you'll get. Join us below as we dig into how to buy and sell cryptocurrency and everything else you need to know about these edge-of-your-seat competitions.
What is a crypto trading competition?
A crypto trading competition has numerous definitions, but almost all of them depict the same thing: a form of online game that enables individuals to enter and potentially acquire cryptocurrency in the process. In some cases, these competitions require participants to play games. However, you are much more likely to come across contests where individuals compete to be the best trader in a predetermined time frame.
Results-wise, these contests usually (though not always) feature rankings based on a combination of profit and ROI trading. Such a setup represents a convenient and effective balance, which also doubles as an excellent test to determine who the best traders are in a short period of time. For instance, any Bitcoin trading challenge is an excellent example of this, as it showcases traders learning how to buy Bitcoin instantly, how to sell Bitcoin, and various other crypto transactions.
How do crypto trading competitions work?
It is important to note that different competitions feature different durations. On the one hand, some trading contests will run for 30 minutes or several hours, while others will go on for multiple days or even longer. Additionally, rankings are based on who was able to excel in terms of both profitability and trading significant volumes. The most successful participants usually receive a predetermined prize, traditionally in the form of cryptocurrency.
Besides merely trading cryptocurrencies, several increasingly popular contests held by notable crypto platforms ask participants to learn a new trading skill (like how to buy crypto with PayPal or how to buy Bitcoin with Apple Pay) or even find bugs in code. Such activities aim to enable participants to move out of their comfort zones and boost their abilities.
However, we understand that you may still feel apprehensive about the process, so here are the necessary steps you'll need to take to ensure everything goes smoothly:
How to participate in a trading competition?
Below, we've outlined a general overview of crypto competitions in the industry and what to look for if you're interested in participating in such a contest. Here's what you should know.
How contests generally work?
Participation rules can differ from one platform to another, with several variants existing as generally accepted and familiar options.
In some cases, each qualified participant is automatically enrolled at the start of each competition. In other cases, some platforms require participants to apply for the competition before it begins (such as the famous AMP crypto competition). If you come across such a contest, keep in mind that you must first register and verify an account at the platform offering the contest. Another typical requirement is that your account must have a certain amount of minimum equity, but this amount can vary between platforms.
However, if you do not fulfill the equity requirements at the start of the contest, you may deposit the equity difference at any point. Although not as common, this option is still available on some platforms, but again, remember that the equity amount will vary depending on your chosen platform.
Generally speaking, being over 18 years of age in your jurisdiction (or over the legal age of maturity) is an absolute requirement for almost every trading competition, crypto-related or otherwise. Simultaneously, you may need to be a new or existing user of the platform organizing the contest.
What you should look for in a trading competition?
From the user's point of view, observing which crypto exchange or network is running the competition is a priority. Needless to say, it is wise to check whether the platform is legitimate and find out more about the overall community managing the contest. The reason is that registering a new account is a requirement for participating in almost any crypto trading contest. Before you do, ensure you are not handing over payment information and personal details to nefarious characters.
For instance, you can turn to reviews of popular exchanges to learn more about the coins and overall services they offer (such as how to buy Bitcoin with Skrill). After you find/use a safe crypto platform that also offers trading contests, the next order of business is to check out the contest rules and the prizes offered by the platform. Observing this information will let you know whether participating in the contest is worth your effort and time. When doing so, it might also be wise to look for a list of past crypto winners (if available) and the trades that won these individuals their prizes.
As mentioned above, while you can enter some crypto trading competitions for free, others will cost money. If you're interested in the latter, keep in mind that you should first research whether such a contest is actually worth your time and effort.
Why are trading competition regulations important?
Trading competition rules and regulations are in place to ensure equal chances of success for all participants. Depending on your chosen platform, you should remember that it can amend, waive, suspend, terminate, or interpret any part of the rules or regulations at any time and without prior notice. However, in the interest of good faith, each platform should simultaneously do its utmost to alert members and participants of the changes via one or more of its communication channels.