What is the Tron (TRX) coin?
Tron is an independent blockchain network governed by a Delegated Proof of Stake consensus mechanism. It has a unique architecture consisting of three layers: core, storage, and application. It was established in 2017 by Justin Sun, who was recognized as one of the best entrepreneurs under 30 in Asia by Forbes.
Tron was built with the mission to decentralize the web and reward content creators for their work. Its aim was to take out the middleman that typically usurps most of the creators' earned money, from the picture. The Tron network boasts more than 78 million accounts.
TRX is Tron's native cryptocurrency that users can use to pay for their favorite content including songs, movies, computer games, etc. The most typical use cases for TRX are entertainment and content sharing. Tron also allows content creators to launch their own tokens, and the company intends to decentralize the gaming industry for good. Apart from Ethereum, it is one of the most popular blockchain networks to build dApps on.
How to buy Tron with a credit card?
With CEX.IO, you can complete quick deposits and trade cryptocurrency using a credit card issued in your name. The best thing about CEX.IO is that you can purchase TRX instantly. You can do that by utilizing our instant buy service. However, you will have to register an account with CEX.IO first and complete a few simple steps. Don't worry, you can do it all in 10 minutes, then buy or sell Tron hassle-free. You can also buy Bitcoin with a credit card and other popular cryptocurrencies.
Register for an account on CEX.IO
Registering for an account is easy and fast. Simply use your email address for registration. Your email will be your login for all CEX.IO products, such as Staking, Loan, CEX.IO Broker, etc. After registration, create a strong password to keep your account safe. We also ask all of our customers to enable the 2FA, making your account invulnerable.
Link your credit card to your CEX.IO account
At CEX.IO, we accept Visa and Mastercard credit cards. Link your credit card on the Cardspage, which you can find on the site header or the Profile menu. After your credit card is connected to your account, you can instantly deposit and withdraw funds at your convenience.
Verify your account
We are a regulated exchange and due to regulations, we will have to verify your identity. We will ask you to provide us with your personal information such as your name, date of birth, country of residence and to upload supporting documents. This is a simple process that you should not worry about. We've simplified the verification process for you and added all the necessary tips for each step, so you can verify your account stress-free.
Top-up your balance
You can buy and sell digital assets anytime when you have funds in your CEX.IO account. No need to wait for a deposit approval. Use your credit card to top up your balance to always have available funds for trading.
Buy TRX
You are ready to buy TRX with your credit card when you have passed through the previous steps. Follow the steps below, and you will be able to purchase Tron stress-free.
1. In order to buy TRX with your VISA or Mastercard credit card, simply go to the Buy/Sell page where all the instant purchase products are available.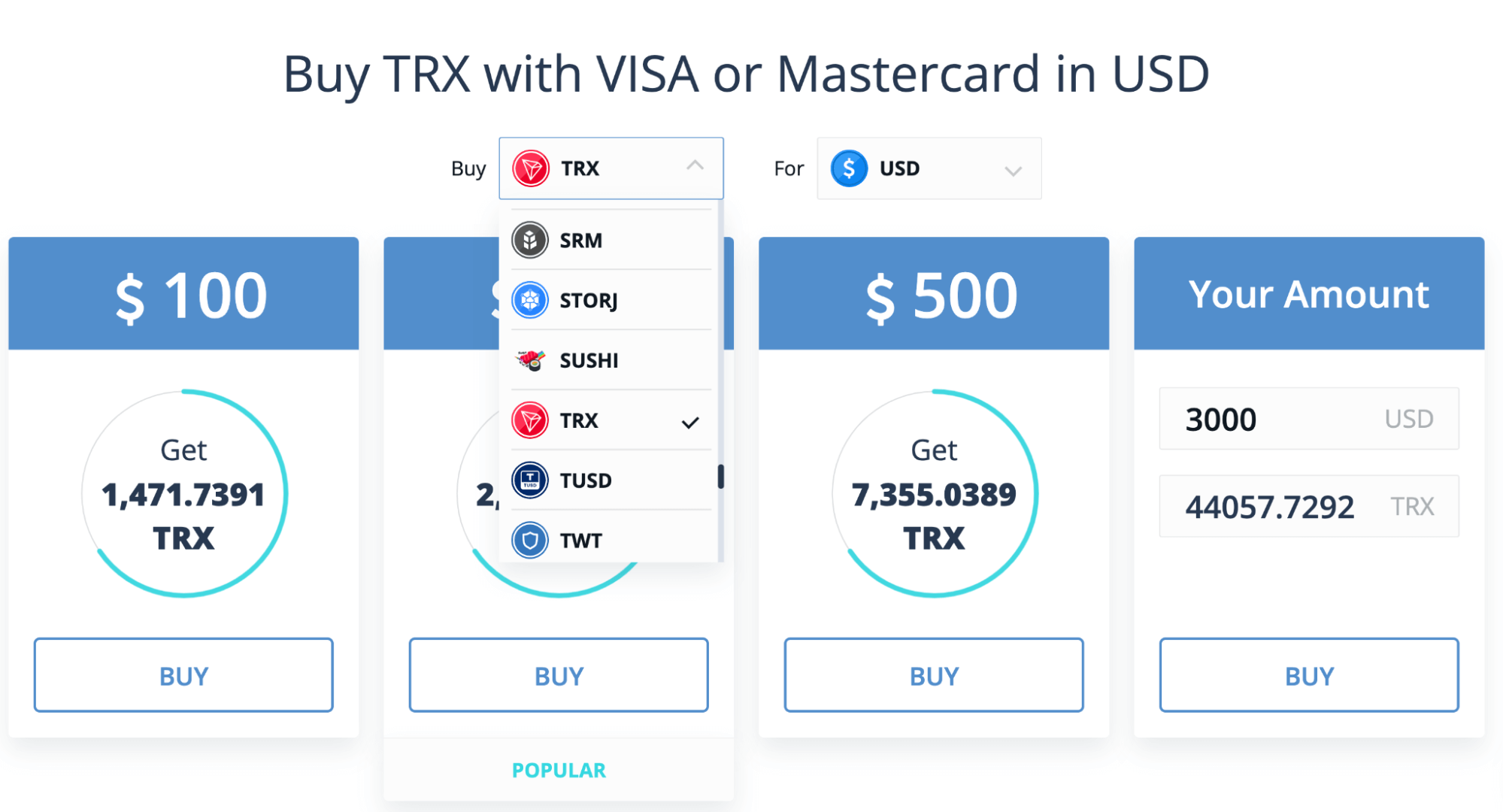 2. Choose TRX from the drop-down menu and select how many coins you want to purchase.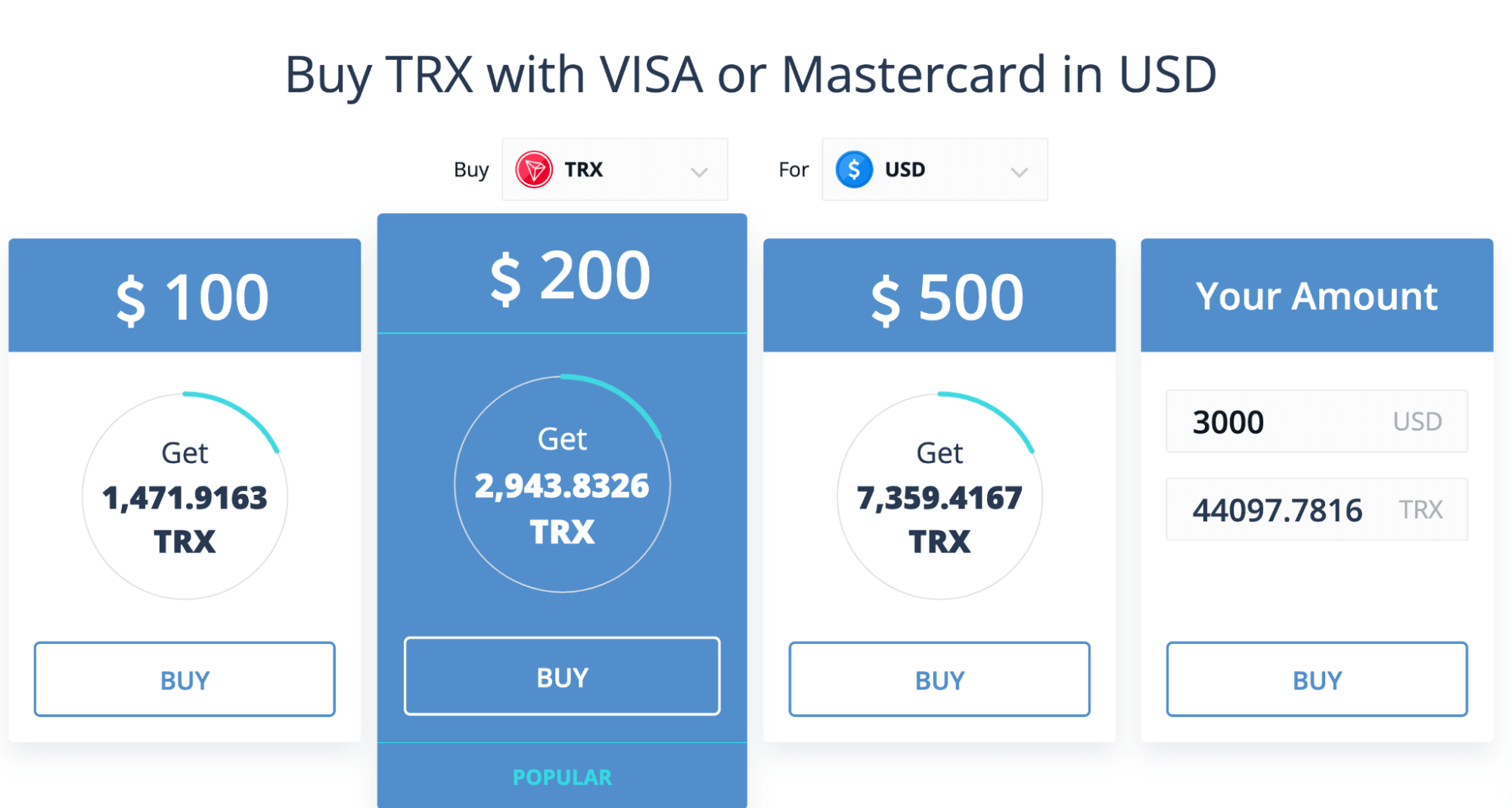 3. Select a linked card to pay with or enter the card number and card expiry date of the new one you want to use for this purchase.
The whole process will take under a few minutes, and you'll get TRX in your CEX.IO account quickly. Similarly, you can buy Bitcoin (BTC), sell Bitcoin, buy Ethereum (ETH), buy Uniswap (UNI), and a wide range of other top cryptocurrencies. Check out live cryptocurrency princes!
How to buy Tron with a debit card
If you don't have a credit card, don't worry. You can just as quickly buy TRX with a debit card just like you would with a credit card. Many banks and payment providers support automatic fund conversion. So you are able to link a debit card issued in any currency. Just remember that banks usually charge additional fees for instant currency conversion.
Do not forget to add and link your debit card to your account, the same way you did with your credit card. Once you've added it to CEX.IO, you can go to Buy/Sell and purchase TRX and other cryptocurrencies instantly.Buy crypto with a debit card.
Where to buy Tron crypto in the U.S.
Most popular crypto exchanges offer Tron for purchase in the U.S. However, keep in mind that not all crypto exchanges are regulated in the U.S.You will have to double-check whether you are dealing with an exchange that is regulated by U.S. regulators. CEX.IO is a bitcoin trading platform, which is a regulated financial entity in 48 states with Money Services Business status with FinCEN (USA). So, if you are a US citizen, you can buy TRX crypto on the CEX.IO exchange. Check out live cryptocurrency prices!
CEX.IO lists new coins every week for US users, so you will have a wide range of coins to choose from if you want to buy, sell, trade, or hold. Check out all the rates on our Spot trading page. Additionally, we support several fiat currencies you can trade crypto with, such as BTC to USD, BTC to EUR, or BTC to GBP.
The best way to buy Tron
The best way to buy Tron is through an online exchange. However, not all exchanges play by the same rules. Some are regulated while others are not. To ensure you do not get scammed, choose a regulated crypto exchange. This way, you can be confident that your crypto purchases are safe.
You do not want to entrust your money to a questionable exchange, but a regulated one. So, we believe CEX.IO could be a great choice for you. CEX.IO is a regulated business with licenses in the UK and the USA (48 states), which means your purchasing of TRX will be with a trusted brand name in the crypto world.
The best two options to buy Tron on CEX.IO are either through an instant Buy/Sell page or on the Spot trading page. The steps to follow for purchasing, have been explained in the section about buying Tron with a credit card.
How to invest in Tron
Investing is a long-term strategy, and before you can buy any digital asset, such as Tron, you need to have an account with a reputable crypto exchange. CEX.IO is a good candidate for your cryptocurrency exchange of choice, as it has been around since 2013 and is now a licensed crypto exchange in both the UK and the USA. So you can buy a TRX coin with us and hold it for as long as you want.
You can buy Tron through Spot trading or on an instant the Buy/Sell pages. Your coins will be automatically stored on your CEX.IO account when you purchase them. You can capitalize on your coins even further by staking your purchased TRX coins by using our Earn feature. Currently, the EAY (Effective Annual Yield) for Tron is 3.5%, and that's how much additional TRX you can expect to earn on your coins, apart from the possibility that it will appreciate in value in the long run.
Buying Tron FAQ
Q.
The best way to buy TRX online in the USA?
A.
First and foremost, choose a broker regulated by the U.S. financial authorities. CEX.IO could be an example, as it has a license to operate in 48 states in the USA. After opening an account and passing the verification process, you can easily buy TRX online using the CEX.IO instant Buy/Sell page or Spot trading page to buy Tron (TRX) with a credit or debit card instantly.
Q.
How to purchase a Tron coin with USD?
A.
You can buy Tron using the most popular fiat currencies on the CEX.IO website. This option enables you to buy Tron (TRX) with your credit and debit cards instantly. The available fiat currencies for purchasing TRX are USD and EUR. You can immediately buy Tron coins with USD on the instant Buy/Sell page.
Q.
Should I invest in Tron in 2022?
A.
Tron's price remains comparatively low at the beginning of the year. The supply of cryptocurrency is limited. These two factors make TRX quite an attractive investment in 2022. You can invest in TRX coin hassle-free on the CEX.IO website by buying Tron with a credit or debit card instantly.
Q.
How do I invest in Tron?
A.
First, create a free account with CEX.IO. Then, pass the verification process and submit supporting documents. After that, link your credit or debit card to your account. That's it. You are ready to invest through instant Buy/Sell or Spot trading pages.