How To Buy Stellar Lumens (XLM)
What is Stellar Lumen (XLM) coin?
Stellar is a blockchain created for providing payments for financial enterprises and payment providers. It also functions as a decentralized exchange where users can transfer any kind of digital asset. Its protocol has a distinctive consensus mechanism - Stellar Consensus Protocol.
Lumen is the Stellar native token with a limited supply of 50 billion. It is the 31st cryptocurrency by market cap, with a market cap of $5 billion at the time of writing. The limited supply of the token should increase its value when the XLM market matures. The XLM token is not awarded or mined. However, you can buy XLM on the most popular exchanges, including CEX.IO, where you can buy crypto with a debit card.
How to buy stellar lumens with a credit card
Using a credit card to buy stellar lumens is one of the best options to buy it, yet few exchanges offer that. However, you can purchase XLM with a credit card on CEX.IO. How can you do that?
First, you need to register and open an account on the exchange.
Register with CEX.IO
Use your active email address to sign up for an account. Your email will be your login for all CEX.IO products, including Staking, Loan, CEX.IO Broker etc. Then, you have to create a strong password that will protect your account from unauthorized access. You should also enable the 2FA method for better account security.
Add your credit card
CEX.IO accepts Visa and Mastercard credit cards. You can link your credit card on the Cards page, which you can spot on the site header or the Profile menu if you use the mobile app.
When you connect your card to the account, you can instantly deposit and withdraw funds anytime you need them.
Verify your account
To increase your account limits and deposit and withdraw up to 3,000 USD a day, you must pass the Identity verification. During the verification, you will have to provide your personal information like your name, date of birth, country of residence, and upload any supporting documents. We've simplified the verification process for you and added all the necessary tips for each step so you can verify your account stress-free.
Top-up your balance
You can buy and sell digital assets anytime when you have funds on your CEX.IO account. No need to wait for a deposit approval. Your bank may take too much time to process your transactions. It may also refuse to work with crypto services. So, you should clarify this information before you start. And, if you can not use your card for some reason, try bank transfer methods (SWIFT, SEPA, Faster Payments, ACH) or send funds from your electronic wallet (Skrill, Epay, Advcash).
Buying Lumens with a credit card on CEX.IO
It doesn't matter whether you want to buy lumens with a credit or debit card you can rest assured that your funds are secure, and the transaction will be handled promptly. Here are a few things to consider:
Buying crypto with your Visa or MasterCard on CEX.IO is just like buying anything else online.

You simply have to fill in your card details, such as name, card number, expiry date, and CVV code, and you have done everything on your side.

When we complete verifying your credit card, it will take only a few clicks to complete the purchase.
Then you can buy lumens or any other cryptocurrency with your credit card. Buy Bitcoin with your credit card!
How to buy stellar lumens with a debit card
Many banks and payment providers support automatic funds conversion. Therefore, you can link your debit card issued in any currency. Just keep in mind that banks typically charge extra fees for instant currency conversion.
Do not forget to add and link your debit card to your account, the same way you did with your credit card. Once you've added it to CEX.IO, you can go to Buy ethereum (ETH), Stellar (XLM) and other cryptocurrencies.
Where to buy stellar lumens crypto in the USA
Most popular crypto exchanges offer stellar lumens for purchasing in the USA. However, not all crypto exchanges are regulated in the country, so be sure to check whether you are dealing with a legitimate exchange that is regulated by U.S. regulators CEX.IO is a Bitcoin trading platform which is a regulated financial entity in 48 states with Money Services Business status in FinCEN (USA). So if you are a US citizen, you can buy Stellar Lumens on the CEX.IO exchange. Check out live cryptocurrency prices!
How to buy stellar with a bank account instantly
If you want to buy XLM (Lumens) instantly, you can use the Buy/Sell section to complete the purchase in a few seconds. You can also use this service in our mobile app. The instantaneous buy and sell also applies to spot trading, which you can do here at CEX.IO.
Instant purchase means that you buy digital assets with a credit/debit card. If you decide to use your credit or debit card, you will sell XLM for cash that will instantly be sent to your card. Similarly, you can carry out the purchase of Stellar Lumens by using your CEX.IO balance. The same applies to selling it. You can also sell Bitcoin and other cryptocurrencies using the same method.
The best way to buy stellar lumens
The best way to buy stellar lumens is through a regulated crypto exchange. This way you ensure that your purchase is safe. There are many unregulated players around and you can lose your money if you deposit it with a questionable exchange. CEX.IO is a regulated exchange with licenses in the UK and the USA (48 states), which means your purchase of Stellar Lumens will be with a trusted brand name in the crypto world.
1. The best way to buy XLM is to use your VISA or Mastercard. In order to do that, you simply go to the Buy/Sell page, where all the instant purchase products are available.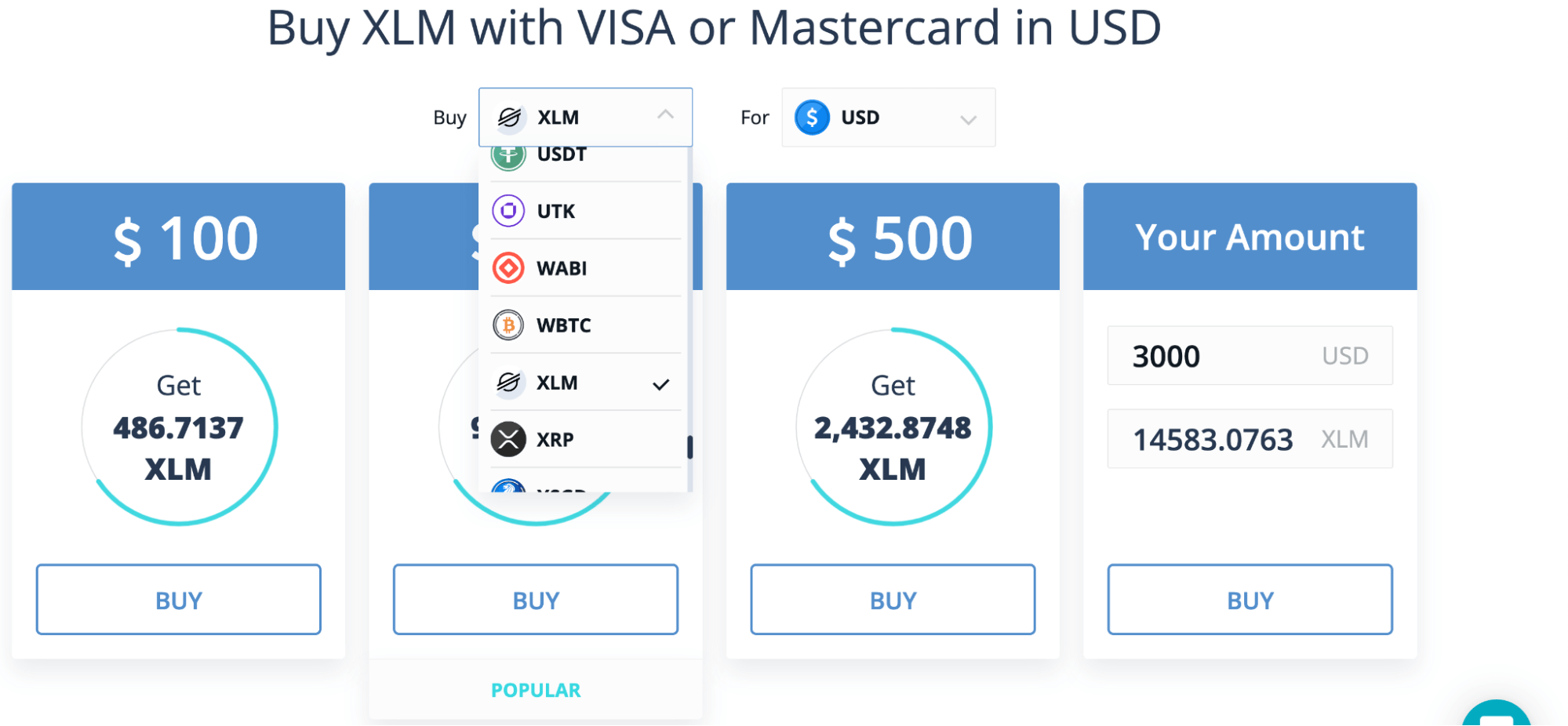 2. Choose XLM from the drop-down menu and decide how many coins you want to purchase.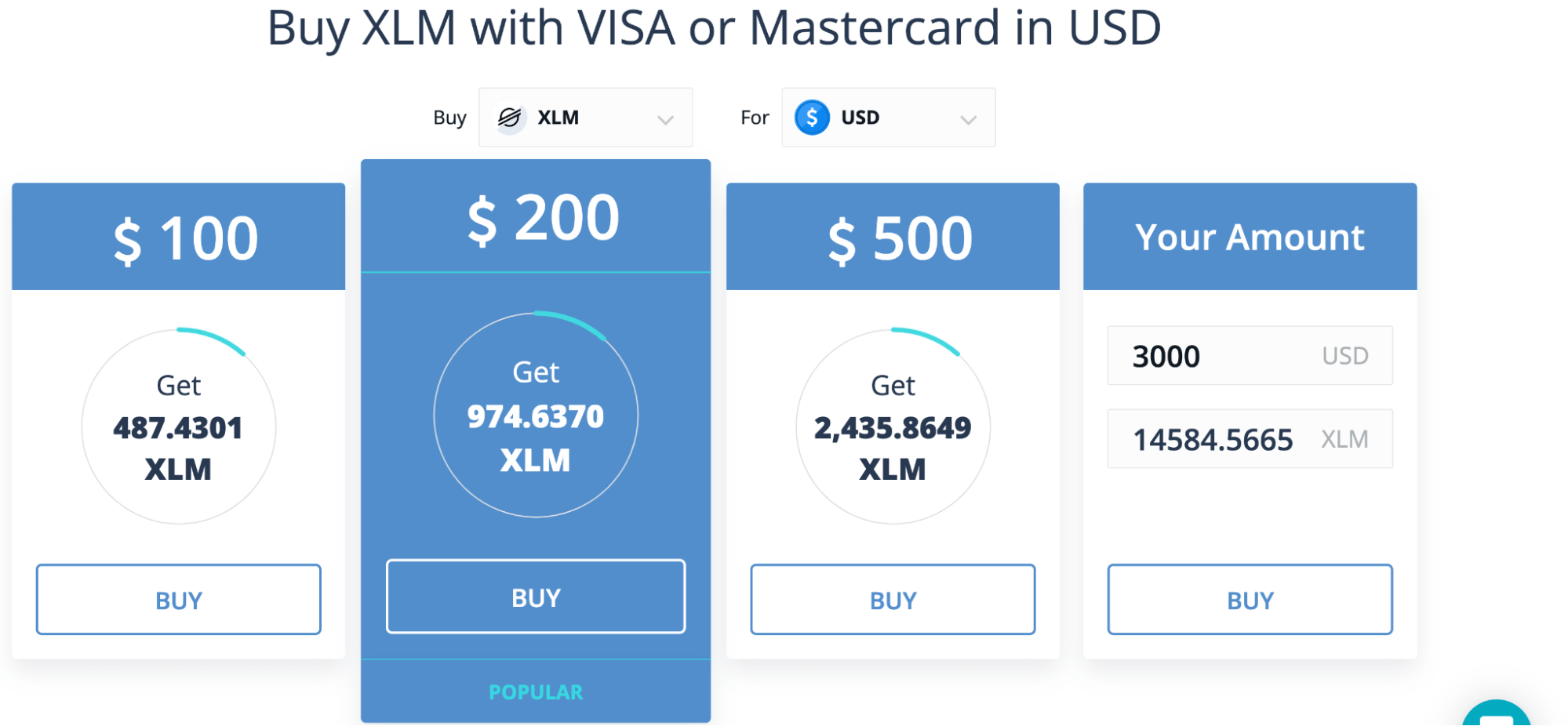 3. Select a linked card to pay with or enter the card number and card expiry date of the new one you want to use this time.
The whole process will take just a few minutes and you'll get XLM in your CEX.IO account instantly. In the same way, you can buy Bitcoin (BTC), Ripple (XRP), AAVE(AAVE), and more.
How to invest in Stellar Lumens
Before you can start investing in stellar lumens, you need to create an account with a reputable crypto broker. Be sure to check that the broker is regulated to avoid scammers that can take away all of your invested crypto and disappear forever. You could try CEX.IO since it is regulated and acts responsibly under the supervision of reputable financial regulators
If you have already opened an account and passed through the necessary verification, then proceed further:
Deposit funds into your wallet.

Go to the Spot trading or Instant Buy/Sell page.

Select from the available XLM pairs which one you want to invest in: XLM/BTC, XLM/EUR XLM/USD, or XLM/USDT.

Select how many stellar lumens you intend to purchase.

Confirm your choice.

Leave your purchased lumens stored in your wallet.
That's it. You have made an investment in XLM.
CEX.IO Lumens FAQ
Q.
What is the best way to buy XLM online in the USA?
A.
First, choose a broker that is regulated by U.S. financial regulators. For example, CEX.IO. Then, open an account with the broker. After that, pass the verification and enable 2FA to secure your account. Next, deposit some money. When you are through with these steps, you can buy, sell, trade, or invest in stellar lumens (XLM) hassle-free.
Q.
How to purchase Stellar Lumen with USD?
A.
You can buy Stellar Lumens using the most popular fiat currencies on the CEX.IO website. This option enables you to buy Stellar Lumens (XLM) with your credit & debit cards instantly. The available fiat currencies for purchasing XLM are USD and EUR. You can instantly purchase XLM with USD on the instant Buy/Sell page.
Q.
Should I invest in XLM in 2022?
A.
Like BTC, Stellar Lumen (XLM)has a limited supply capped at 50 billion. This makes XLM stand out from other cryptocurrencies, which may have an unlimited supply. Value investors could consider buying XLM at current prices, as the coin has corrected around 75% from its all-time high. It has use-cases, limited supply, and is popular among investors, so it could be an excellent choice for investing in 2022.